Unsung Eagles: True Stories of America's Citizen Airmen in the Skies of World War II
Winner of the 2014 San Diego Book Awards for History and Politics.
"...only a small fraction have become aviation classics.  One is Jay A. Stout's, Unsung Eagles, the finest compilation of first-person accounts of what it is like to go to war in the air that this reviewer has ever read."
--Smithsonian Air & Space
"...crisply written book. It is an engaging history that gives a personal context to the great air battles of Of World War II."
--Flypast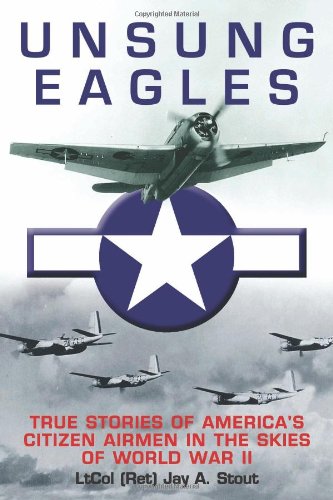 "Jay Stout has written one of the finest tributes to the fighting men of the greatest generation, concentrating not on the famous aces whose actions are well known, but on the 'ordinary man' who rose to greatness when the situation demanded it. The author's deep research and innate writing ability merge to make this book a must for every aviation library."―Walter Boyne, former director of the National Air & Space Museum of the Smithsonian Institution
"Unsung Eagles offers a rare cockpit perspective of World War II in the air. Jay Stout's anthology features an extraordinary variety of accounts from airmen―many now deceased―that will become more valuable as the generation that fought the greatest air campaigns of all time continues to depart the pattern."―Barrett Tillman, author of Whirlwind: The Air War Against Japan, 1942–1945
The nearly half-million American airmen who served during World War II have almost disappeared. And so have their stories. In Unsung Eagles, award-winning writer and former fighter pilot Jay Stout has saved an exciting collection of those accounts from oblivion. These are not rehashed tales from the hoary icons of the war. Rather, they are stories from the masses of largely unrecognized men who―in the aggregate―actually won it.
These are "everyman" accounts that are important but fast disappearing. Ray Crandall describes how he was nearly knocked into the Pacific by a heavy cruiser's main battery during the Second Battle of the Philippine Sea. Jesse Barker―a displaced dive-bomber pilot―tells of dodging naval bombardments in the stinking mud of Guadalcanal. Bob Popeney relates how his friend and fellow A-20 pilot was blown out of formation by German antiaircraft fire: "I could see the inside of the airplane―and I could see Nordstrom's eyes. He looked confused…and then immediately he flipped up and went tumbling down."
The combat careers of 22 different pilots from all the services are captured in this crisply written book which captivates the reader not only as an engaging oral history, but also puts personal context into the great air battles of World War II.